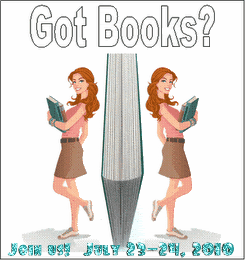 In the Got Books? Event I offered up 7 books for one lucky winner. The reason behind choosing seven - none really. I'm fortunate to get a lot of books for review purposes. There isn't much that can beat coming home from work and discovering a box crammed full of books waiting for me. I wanted to pass that joy on to someone else.
I would like to say a huge thank you for everyone who entered - all 192 of you! I read every comment that you left.
Subscription by email is currently being sorted out. It'll take a few days while my tech friend sorts it out, so please bear with me for a little while longer.
I've gained 51 new followers to the blog! At this rate I'll soon be holding a 200 follower contest. Welcome to everyone who is new, and hopefully you'll enjoy the reviews that are put up here.
Now, here's a reminder of the prize:
(small possibility the cover is different)
(Note: Cathy's Ring might be different cover)
Using a random generator site, I can say that the winner is number 37 on my spreadsheet.
*rushes across cyberspace to spreadsheet*
Number 37 is.....
Shishito !
Many congratulations Shishito! I'm just sending you an email to sort out posting details. You're the winner of the first Got Books? Event competition held on Nayu's Reading Corner!
For everyone else, please be sure to check out my current competitions, there may be a book you like.